"Now We're Counting Seconds, We've Lost Our Only Guide" Edition
Greetings,
Obligatory shilling. This week I wrote for the Spectator USA about that tragically complacent decade the 1990s, and also wrote a defence of the much-maligned Capital Hill Autonomous Zone.
I had an article published by The Critic about the morbidly comic history of the Baader-Meinhof Gang.
Finally, I spoke with the excellent writer and critic Titus Techera about the surge of iconoclasm in Britain, which I also criticised in an article for paid subscribers to this platform. If that interests you, subscribe!
Times Like These. Wessie du Toit, a very underrated writer, has an interesting article in Palladium on the failure of liberal institutions to deal with an age of crises. I have some object-level disagreements but his descriptions of how ill-suited the parameters of our discourse and decision-making are for these times is incisive.
Jacob Siegel, another excellent writer, has an article in Tablet which explores similar themes, and how "those longing for a return to normalcy will be disappointed."
Home front. With apologies to my British readers, for whom these words will like salt in open wounds, last weekend I went to the pub for the first time since the Polish government insisted on their closure. It was very nice. The air was warm. The birds were singing. Within minutes, two groups of young lads were threatening to start a fight over a favourite football team. Will coronavirus radically transform our priorities and outlook on life? Will it Hell.
Tory anarchism. The great Aris Roussinos makes a case for radical localism in Unherd. It is an interesting piece, and I certainly endorse the maintenance of local character and community, but I have one criticism. Aris writes that a conservative embrace of Tory anarchism would involve:
…abandoning a battlefield so heavily stacked against conservative victory, and creating a new one where democratic victories can be fairly implemented by the very people who themselves demand them.
But at the risk of being a sordid salesman of blackpills, one cannot demand a settlement in a fight one is losing. At the very least, one needs something to bargain with. If one has nothing of the kind, the Shire will be crushed.
Great minds. I won't often say this - in fact, I will probably never say this again - but I agree with this article in Feminist Philosophy Quarterly. Well, kind of. As I have done - for Quillette, no less - it defends the male tendency towards emotional reserve, though it does so in very different terms. I suppose people can climb a mountain from different sides.
Home front II. My town was built on silver mining. The mine is disused now, but to the delight of local hotel owners and restauranteurs it was granted UNESCO heritage status. I suppose they are less delighted this year.
I ran past the mine on Saturday morning and took this photo as the sun came up. It was humbling to imagine miners approaching the place on a beautiful morning and thinking, "Ah, well. Down I go again."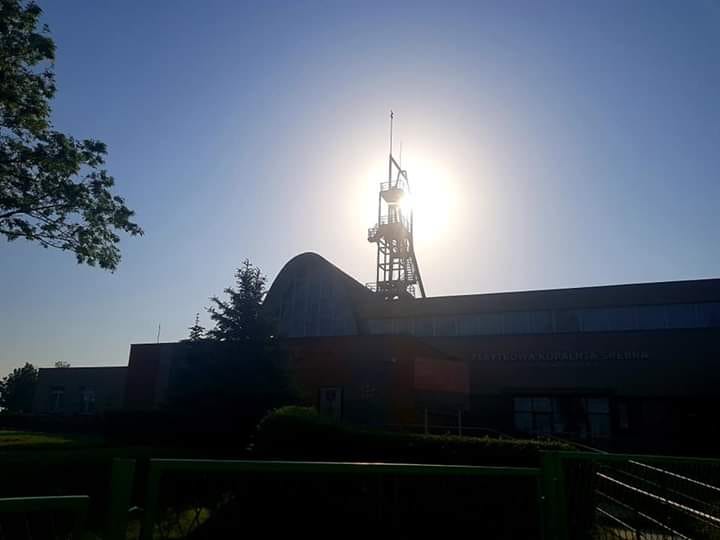 Q&A. How did you end up in Poland?
Pure luck. I had a profile on a careers website and was offered a job there after trying, and failing, to get a job in Japan. So, sometimes fate smiles on one, because it was a glorious accident.
What caused you to abandon your leftist politics and embrace conservatism?
The realisation that the things I valued most were founded, in at least some sense, on traditional institutions, and that the things I had supported were based on fantasy and resentment. But it was a gradual process. There was no voice from the Heavens on the road to Damascus.
What conservative position do you not embrace?
I'm not sure there is a list of conservative positions but I support nationalised healthcare and vegetarianism, neither of which would have the average conservative giving the Nod of Soundness.
Best Polish novel that's worth a read.
The greatest Polish novel is probably Quo Vadis but my favourite writer, whose non-fiction books are at least novelesque, is Kapuscinski.
Why aren't Poles better represented in UK drama?
I wrote an article about that!
I'm curious about your thoughts on capital punishment.
I'm against it. Now, I think some criminals deserve to die, like first-degree murderers, violent rapists and child molesters. There is something embarrassing about choosing to share the world with them. But I cannot get past the idea of executing an innocent man - and the length of time that people sit on Death Row to ensure that repeated appeals and inquiries do not prove to prosecution wrong turns righteous outrage into a clinical farce.
What's the funniest joke you've ever heard?
Change UK. I'm smiling again just thinking about it.
What's the point of life?
Struggling to achieve the best of one's potential, in concert with one's community where possible, against the hardship and absurdity of the world. Also, subscribing to Ben Sixsmith's newsletter.
Have a nice week,
Ben